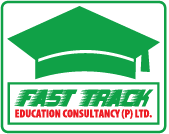 FAST TRACK Education Consultancy
Bagbazar - 28, Kathmandu. (Opposite to NCC Bank) , Kathmandu, Kathmandu
Khadga Bahadur Tamling Limbu
DIRECTOR
Dear Students and Guardians,
Greetings from Fast Track Education Consultancy Pvt. Ltd.
You are aware of the presence of numerous education consultancies in the country. However, only a few of such companies have in-house expertise and knowledge of related rules and regulation pertinent to education immigration, university / college admission, financial assistance and visa procedure. Hardly a few companies maintain high ethical standard and transparency in their operations.
Fast track Education Consultancy is an exceptional organization in this regard. The prime objective of this organization is to attain excel... See More
Bagbazar - 28, Kathmandu. (Opposite to NCC Bank) , Kathmandu
info@fasttrack.edu.np
01-4233326, 4233644, 4212141
FAST TRACK Education Consultancy was established in 2007 with the aim to assist Nepalese students to study in Japan. Fast track is a professional consultation service provider in the areas of educational Consultancy and provides professional counseling and information to the aspirant of abroad studies. Since its inception, Fast Track has grown significantly over the years. It has provided its services to hundreds of students since its establishment. Consistent and efficient services to students and institutes reflect our professionalism and dedication to provide reliable information on the most professional way. The main reason of our growth is the student's appreciation of efforts made by Fast Track's experienced team.
Our realistic approach to address client's needs and demands is the commitment we have with educational institutions which make us reputable education agent in Nepal. Fast Track is ready to account the developing desire of scholars who want to pursue their studies in a dynamic nation like Japan. We recognize their needs and committed to guide students on the right track to meet their requirements in Fast Track.
OUR MISSION
Fast Track Education consultancy Pvt. Ltd. is committed in its mission of helping Nepalese students who deserve multiple latencies in Higher Secondary level and aspire to study abroad in the valuable international institutions which could shape their future career. Fast Track serves to these students who have enthusiasm in achieving better further education moreover, our focus is on skill generating education which becomes platform for creatively of the students.
In the 21st century globalization and the age of ultramodern technology, we want Nepalese students also should appear to mainstream of the age. Fast Track Education is conducting various classes for the students who aspire to gain knowledge of the course and enhance the skill in advance. The classes includes behavioral skill, Mass communication etc. So the students who choose Fast Track for abroad study feel comfortable and hopeful over there in their mission. Moreover the classes like TOFEL/ILETS/SAT/GRE/GMAT are conducting from this institution which is very much helpful for them for their better future studying abroad.
OUR VISION
Fast track Education Consultancy Pvt. Ltd. is committed explore the qualities of Nepalese students, and finding better opportunities for them throughout the world. Our belief is on qualitative education which sharpens the horizon of their minding diverse fields. We are always and ever committed to consult with students, provide them guidance for their better opportunities.
Fast Track is established with the vision of providing quality education and providing them guidance to Nepalese students who are competitive, enthusiastic and eligible to explore and demonstrate the bright future of country as well. By providing them international level of education to the 'building pillars' we want to contribute building the nation, it is our ultimate goal.
We strive to be recognized by better national and international qualitative and competitive educational institutions/organizations. Since the existence of any institutions depend on the quality. it provides to customers, we are at our best to satisfy our customers. We represent the qualitative educational institutions around the world. It is our ethic and responsibility toward concerned member to fulfill their expectation of quality education. Our world is the world of technology, we aspire Nepalese student to include within this stream and more students to be inside with this modern advance technological owned.